Please meet our team of professionals:

Iveta Kalniņa, Chairperson of the Board: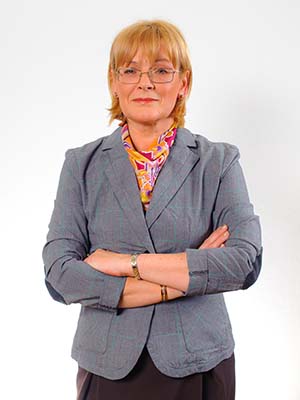 I am the Chairperson of the Board and very happy to be in charge of a company that provides financial services to regional and international companies.
I started my educational life in Engineering and Construction. When Latvia gained independence I re-focused my career and began to work in the field of accountancy and financial management. I worked as the Chief Accountant for Auto Riga Ltd for 8 years (a company which specialises in the buying, selling and leasing of vehicles in Latvia and other countries). I learned quick about international trade and finance.
Then I became Chief Accountant of the BMGS Company, which deals with construction services in the Baltic States and Russia. So I saw both sides of the financial world - east and west.
During this time I also gained internationally-recognised qualification in accounting, auditing and taxation.
I have studied programmes organised by international financial companies such as PricewaterhouseCoopers Ltd. and have updated my knowledge through international associations and examination bodies.
I work with Navision Axapta and Uvis (Horizon Start) computer programs.
I am fluent in Latvian - of course, Russian and English.
English knowledge is another skill which gives our company a continuing competitive edge!